May 16, 2019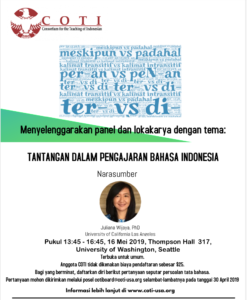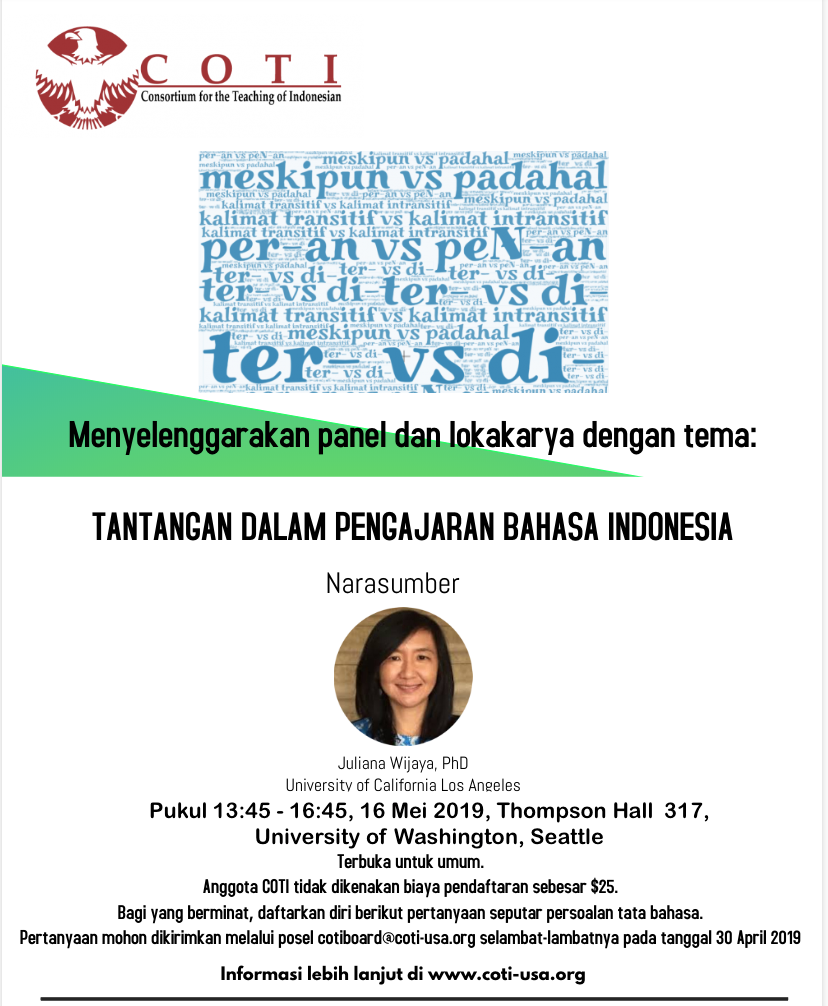 February 2018
Seminar BIPA (Amerika Serikat-Republik Indonesia)
9-10 February 2018
A collaboration between
COTI and Atma Jaya Language Learning Center-Jakarta
Theme
BIPA Millennial Era: Various BIPA Teaching Methodologies and Materials 
Locations
Language Resource Center, Cornell (USA) and
Gedung Yustinus, Lantai 14, Unika Atma Jaya (Indonesia)
Speakers
Dr. Erlin S. Barnard, University of Wisconsin-Madison (Keynote Speaker)
Desiana Pauli Sandjaja, M.A., University of Washington-Seattle
Falantino E. Latupapua, M.A., Universitas Pattimura
Issyatul Mardiah, M.A. and Hurmayani, M.Pd., Mataram Lingua Franca
Dr. Gatut Susanto, Peni Dyah Anggari, M.Pd., and Vania Maherani, S.Pd., Universitas Negeri Malang
Prof. Dr. Bambang Kaswanti Purwo, Unika Atma Jaya Jakarta (Indonesia only)
Sponsors

PPB-Atma Jaya https://ppb.atmajaya.ac.id/web/; AIFIS https://www.aifis.org/;
COTI http://coti-usa.org/; Asian Studies-Cornell http://asianstudies.cornell.edu/; 
SEAP-Cornell https://seap.einaudi.cornell.edu/; LRC-Cornell http://www.lrc.cornell.edu/
Application Form
Seminar BIPA ASRI_2018 formulir pendaftaran di Indonesia 
For US participants, contact [email protected] to apply.
Poster
Seminar BIPA ASRI – pengumuman
Seminar Programs
Seminar BIPA ASRI – seminar program (USA) – final version
Seminar BIPA ASRI – susunan acara (Indonesia) – terbaru
Note: US locations run from 7:30 PM – 12:50 AM EST, while Indonesia runs from 7:30 AM – 15:30 PM WIB.
Abstracts
Abstract from MaLFI (central Indonesia); Abstract from UM (western Indonesia);
Abstract from Unpatti (eastern Indonesia); Abstract from UW-Seattle
Papers and Slides
To be distributed for registered participants
June – August 2018
2018 COTI Immersion Program
COTI (Consortium for the Teaching of Indonesian) is an eight-week summer program held in Salatiga, Central Java; it was conceived of as the capstone of the Indonesian language programs offered in North America during the academic year and at the Southeast Asian Studies Summer Institute (SEASSI). It is organized in cooperation with the Language Training Center (LTC) of the Satya Wacana Christian University (Universitas Kristen Satya Wacana — UKSW). This year the program will take place from June 21st to August 15th, 2018. If you are interested in this opportunity, please submit an application by February 16, 2018.
For further information, go to the website https://coticornell.wordpress.com/
10-12 May
The Twenty-Second International Symposium
On Malay/Indonesian Linguistics
(ISMIL 22)
Abstract dateline: February 15